Latest Updates from Kink Men (Page 20)


Dolf Dietrich likes surprises and he sure is in for a big one. Trenton Ducati rarely gets to dominate such a beefy slave. Strapped to a sadistic cross, Trenton beats, burns and fucks his blindfolded meat hole. Never before has Dolf had the inside of his asshole electrocuted. After Dolf gets fucked by an electric rod, Trenton finishes him off by unloading his balls all over Dolf's submissive face.
Lance Hart's got a perfect body, and he's ready to use every inch of it to dominate Eli Hunter. Eli, coming back from a defeat, feels confident that he'll reclaim his glory and fuck Lance into the mat. The second round maintains the intensity, as Lance uses every opportunity to shove his dick into Eli's mouth while Eli commands the ring with punishing holds. Both contenders fight admirably, but there can only be one winner. He emerges with a clear margin and hard cock, ready to take his prize. The winner makes the loser worship his cock and balls before manhandling him around the mat for a victory lap. The loser gets a good taste of winner feet and armpit after being thrown to the ground. The winner can't wait to take the loser's ass to town and slides right in for a rough fucking. With the winner's hands fish-hooking his mouth, the loser moans and pounds his fist into the mat. The winner pulls out and covers the loser's ass in cum. After the loser cleans the winner's dick, he gets taken into an arm bar and his cock milked. The winner uses his feet to smear the loser's cum all over his face.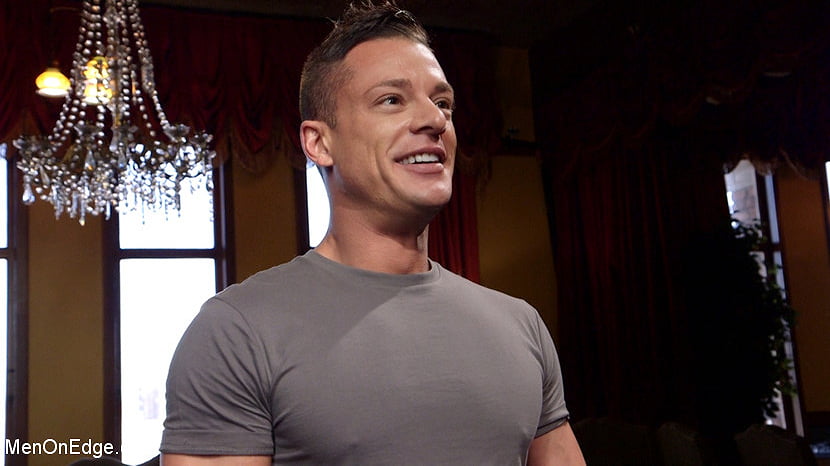 Lean, cut Rex Cameron arrives at the Armory to see if he can make it though an edging session with Sebastian and Jessie. Rex gets hard as soon as the ropes secure his body to the chair where he'll sit and try to deal with an onslaught of pleasure. Sebastian fits Rex with a blindfold to center the stud's mind on the sensation of Jessie's blowjob. He moans eagerly as Sebastian gags him with his precum-stained underwear. The two take a pair of hitachis and run it up and down Rex's shaft, edging him repeatedly. Sebastian switches the vibration for a fleshjack, driving Rex wild as he bucks his hips against his restraints. Rex takes a rough tickling before Jessie and Sebastian move him to the center of the room. With his arms and legs stretched from wall to wall, Sebastian adorns Rex's throbbing dick in rope while Jessie worships his balls. They move their attention to the stud's ass and plunge a dildo deep inside his hole. Edged over and over, Rex can't take any more of the treatment and begs to cum. The two finally let him blow a load as Sebastian handgags his face. Jessie gives Rex a handful of his thick load before he and Sebastian tickle his body all over.