Latest Updates from 'Bound Gods' at Kink Men


With a leather mask covering his face and his hard cock jutting out from the leather chaps, Dallas Steele stands bound with rope. His muscular arms are outstretched, tied to the ceiling and his ankles tied to the floor. Michael Roman enters the scene in leather pants and a leather vest. He grabs Dallas by the cock and tells him who's in charge. Michael punches and slaps Dallas' chest and abs. Michael rips the leather mask from Dallas' face and kisses him hard. He gets to his knees and helps himself to Dallas' hard dick and sucks his cock while zapping him with an electric shocker. In the next scene, Dallas is bent over a wooden table with his hands bound out in front of him, a bit-gag between his teeth, and his ankles bound to the table legs. Now with an electric butt-plug inserted into his ass and electronic pads lining the backs of Dallas' upper thighs, Master Roman slowly twists the controller knob until the power is maxed out. Michael Roman flogs Dallas' back and ass while the electricity pulses through his ass and thighs. Michael removes the butt plug and replaces it with his big cock and fucks Dallas deep and hard. After that Michael ties Dallas with rope, face-first against the wall. Michael licks his ass and then plunges an anal hook into Dallas' hole. Michael Roman attaches rope to the end of the anal hook, pulls it through a pulley, and the other end is tied to a chair, using it as a weight to pull up on the hook in his ass. Michael crops his body and then jerks his cock, sending Dallas' cum flying. He takes Dallas down to pound his ass some more and blows his load all over Dallas' face.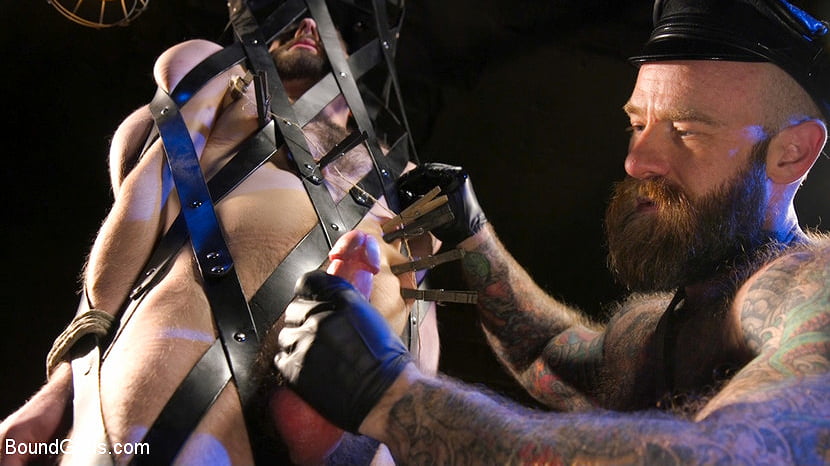 Clad in leather from head to toe, Jack Dixon awaits the arrival of his boy William Crown. William enters and drops to his knees, crawling toward his Daddy, only to be kicked and sent sprawling by Daddy's heavy leather motorcycle boots. Jack commands him to strip and then has him worship his leather boots and pants. William sniffs Daddy's leather and licks Daddy's boots all over. He pushes his face into Daddy's crotch, nuzzling his hard cock through the leather, as Daddy exposes his metal chastity device and crops his ass. Each smack makes William cry out, happy for attention and the honor of worshipping Daddy's leather. Jack pushes a gloved finger into William's ass to see how tight his boy is today. Since William is pretty tight, Jack decides he needs some warm up. William is suspended in rope, leaving his ass exposed to Jack's leather flogger and his mouth at the right height to suck Jack's big fat pierced cock. Jack's cock is so big, William can barely get his mouth around it. His lips stretched wide around Daddy's dick, William struggles to take all of it. Maybe his ass will have better luck. But first, Jack flogs William's ass and puts him in a leather cage with his hands tied. Jack lets him out of chastity and teases his cock to hardness before attaching a long close-pin zipper around his body. William moans as each close-pin goes on. Jack close-pins his balls before sucking on William's cock. Finally, he jacks his boy off with his leather gloved hands and makes him clean off his leather. Now it's Daddy's turn. Jack pummels William's asshole before blowing his load all over William's body.
Angel Duran is new stud here for his first time on Kink.com. The movie opens with Angel blindfolded on his knees with a bit-gag in his mouth. His arms are trapped inside of of a black latex bodysuit. Dominic Pacifico steps into the scene dressed in a black and blue, all latex uniform. He rubs his hand up and down Angel's slick latex bodysuit. He tells Angel to lick his hard cock through his latex pants. Angel licks his latex, sticking his tongue through the bit-gag to get to it. Dominic unbuttons his latex pants and pulls out his big hard uncut cock. He grabs his own balls tight in one hand and makes Angel lick them. Dominic unzips the ass fly in Angels suit and spreads his bare ass. Dominic takes out his crop and hits Angels ass repeatedly. Dominic takes the bit-gag from Angel's mouth and swaps it out for his fat cock and face fucks Angel's mouth until he's gagging and drooling all over himself. Next we find Angel completely naked, standing on a wooden platform with a spreader-bar between his legs and a metal stock trapping his neck to his hands. A spider-gag keeps his mouth open and the drool pouring out. Dominic comes up from behind and devours Angel's asshole with his tongue. Dominic grabs his leather flogger and hits Angel on his back and ass. In the final scene, Angel is tied up in rope bondage on his back with his legs spread. A rope is wrapped around his neck that goes to a pulley where Dominic can apply pressure. At first Dominic stretches Angel's hole with his latex covered hands, sticking his slick fingers inside and then shoves his cock deep in his ass and fucks him hard.