Latest Updates from 'Bound Gods' at Kink Men (Page 4)


Wearing only a leather dog mask and a jock strap, hands resembling paws bound in black tape, Brian Bonds barks like a dog and wags his tail in his cage, waiting for his master, Jonah Fontana. Jonah enters the room wearing black leather pants and boots, holding a crop, and asks his puppy if he wants to get let out of his cage and play for a while. After a couple of excited barks, Jonah lets his puppy out of the cage and gives him a scratch on the chin. Brian sits like a dog in front of Jonah and begs for his bone. Jonah tells his puppy that he'll have to earn it and crops his back and inserts a butt-plug puppy tail into Brian's asshole before whipping out his hard pierced cock. Through the leather puppy mask, Brian sucks his master's cock while getting cropped. In the next scene Brian is bound with rope on his back to a circular table. Jonah comes in and removes the mask's muzzle and replaces it with a spider-gag in Brian's mouth. Jonah cuts Brian's jock off with scissors and sucks his pup's hard cock. After that, Jonah applies clover clamps to his pup's nipples and across his stomach and even more across his ball-sack. Jonah sticks his hard pierced cock through the spider-gag in Brian's mouth and fucks his face before painfully removing all of the clover clamps. In the final scene, Jonah ties his pup to the outside of his kennel with his ass sticking out. Jonah crops his ass and back hard while Brian whimpers. Jonah then removes Brian's butt plug and replaces it with his cock. Jonah fucks Brian's ass deep and hard sticking his fingers in Brian's mouth making him taste his leather glove. After a hard fucking, Jonah releases his pup from the cage to give him a treat and shoots a huge load all over his leather mask.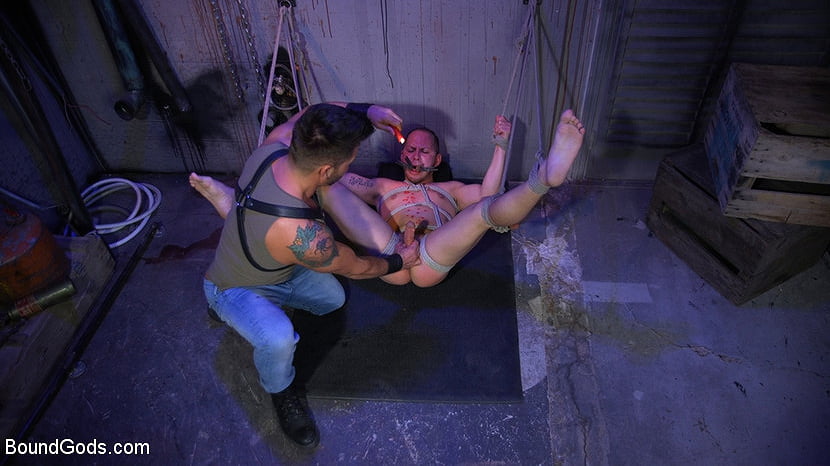 This week's Men on Edge left new boy Brodie Ramirez tied up in an alley after being edged and teased. As Brodie struggles to get loose, Dominic Pacifico is on the prowl. He took down Brodie and he's back for more. Brodie thinks Dominic is here to release him, but Dominic is just here to watch this slut take even more pain and pleasure. Tired of Brodie's pathetic pleas for freedom, Dominic puts close-pins all over his tongue. Then he lights a candle and drips wax all over Brodie's tongue, chest, cock, balls, and feet. Brodie screams in pain as his whole front is covered by wax. Then Dominic takes a shoe off and rubs his dirty foot all over Brodie's face. Brodie has no choice but to take it, licking Dominic's foot clean in hopes he'll be released. But that's not what Dominic has in store for Brodie. He ties Brodie down and puts a gimp mask on him. He makes Brodie smell his cock before ramming it down Brodie's throat. Taking every inch, Brodie sucks Dominic's cock, gagging on it with drool and spit leaking from his slutty mouth. Dominic flogs Brodie on his back and ass before bringing Brodie's mouth back down on his dick. Finally, Dominic puts a gag in Brodie's loud mouth and fucks this slut's tight asshole. Brodie loves feeling Dominic's fat cock filling him up and enthusiastically works Dominic's cock as he moans around the gag. Dominic knew this horny bitch wanted it and works Brodie's cock till he blows his load all over himself. Brodie begs to be released as Dominic brings him down to his knees and shuts him up with his cock. He uses Brodie's mouth and then gives this slut a big load of cum all over his face. He makes Brodie suck is cock clean, before hauling him off to whore him out to anyone who wants him.
D.Arclyte is doing hard time with a hard-on in his one-man cell on Cell Block 3. Laying on his bunk, he thumbs through a dirty magazine stroking his cock when suddenly he's caught by Correctional Officer Nate Grimes. Refusing to give up the contraband, D. and Nate have a tug-of-war for the dirty magazine. D. grabs the officer's wrist twisting it into submission and gets both hands cuffed to the bars, both boots tied to the bars with rope, and gets a bit-gag stuffed in his mouth so the other inmates and guards cant hear his cries for help. D. removes all of Nate's clothes, cutting his underwear off last, revealing Nate's big hard cock. D. slaps and punches Nate's chest and thighs and takes his dick deep down his throat. D. gets the zapper and gives him a few electric shocks making his dick bounce around like a boxer. In the next scene, Nate Grimes gets tied now to the inside of the cell with his shoulders on the ground and his legs tied spread-eagle to the bars with black rope in a jack-hammer position. His eyes are blindfolded and his cock has been smashed inside a cage. D.Arclyte plays with Nate's asshole putting his fingers inside then finds a flogger and flogs Nate's ass while stroking his own cock. After that, D. finds a nightstick and sinks it deep into Nate's asshole, then uses a flashlight to stretch his ass even further. Nate's ass takes the whole flashlight and D. leaves it in there and goes into the cell to fuck his reluctant mouth. In the final scene, Nate is on his back, tied to the bunk with his legs spread, his ass getting fucked by a fucking machine. D. Arclyte walks in and steps over the machine and squeezes his cock into Nates ass along side the dildo attached to the fucking machine, double-penetrating his ass.