Latest updates featuring Nate Grimes
D.Arclyte is doing hard time with a hard-on in his one-man cell on Cell Block 3. Laying on his bunk, he thumbs through a dirty magazine stroking his cock when suddenly he's caught by Correctional Officer Nate Grimes. Refusing to give up the contraband, D. and Nate have a tug-of-war for the dirty magazine. D. grabs the officer's wrist twisting it into submission and gets both hands cuffed to the bars, both boots tied to the bars with rope, and gets a bit-gag stuffed in his mouth so the other inmates and guards cant hear his cries for help. D. removes all of Nate's clothes, cutting his underwear off last, revealing Nate's big hard cock. D. slaps and punches Nate's chest and thighs and takes his dick deep down his throat. D. gets the zapper and gives him a few electric shocks making his dick bounce around like a boxer. In the next scene, Nate Grimes gets tied now to the inside of the cell with his shoulders on the ground and his legs tied spread-eagle to the bars with black rope in a jack-hammer position. His eyes are blindfolded and his cock has been smashed inside a cage. D.Arclyte plays with Nate's asshole putting his fingers inside then finds a flogger and flogs Nate's ass while stroking his own cock. After that, D. finds a nightstick and sinks it deep into Nate's asshole, then uses a flashlight to stretch his ass even further. Nate's ass takes the whole flashlight and D. leaves it in there and goes into the cell to fuck his reluctant mouth. In the final scene, Nate is on his back, tied to the bunk with his legs spread, his ass getting fucked by a fucking machine. D. Arclyte walks in and steps over the machine and squeezes his cock into Nates ass along side the dildo attached to the fucking machine, double-penetrating his ass.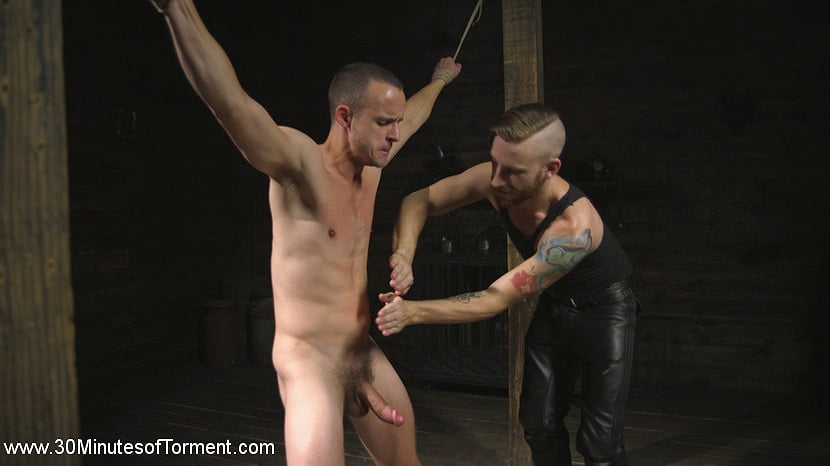 Nate Grimes is a real player in his personal life, and has been a fan of the KinkMen sites for some time now, but he's never experienced anything like the 30 Minute Challenge. He starts off in the pit, his hard cock dangling between his legs as Sebastian starts warming him up. Nate begs for more once the punches come out so we give him the flogger to really get him screaming. Strapped to the chair, his sight is removed and clover clamps decorate his torso as Nate breathes through the pain. His senses are driven wild once the sharp pinwheel glides across his body, tormenting his clamped skin until he begs for mercy. For his last challenge, Nate is made to ride our gimp's hard cock, all while enduring a caning on his thighs and ass. As if his nipples weren't sore enough, we finish him off with a zipper of clothespins across the chest before having him shoot his load all over the dungeon floor.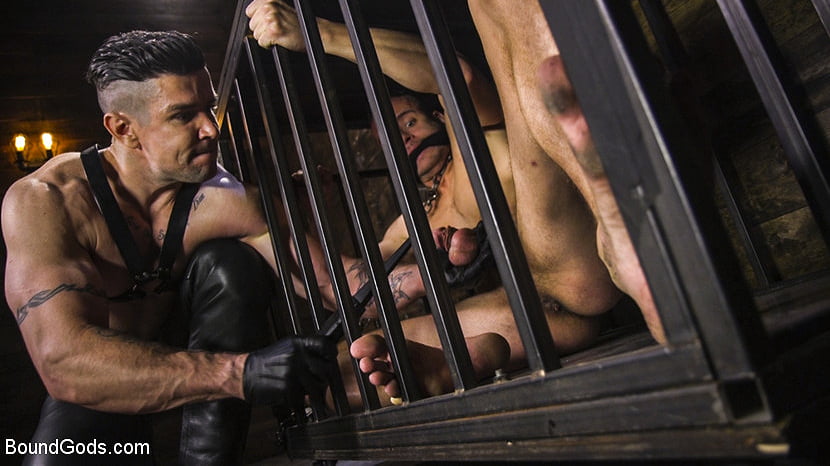 Locked in a cage, Nate awakens to find himself with a chain around his neck as his tormentor, Trenton Ducati, approaches. The sadistic leather dom grabs his boy by the chain and smashes his face against the bars, relentlessly zapping him with electricity as Nate screams in agony. Now that he knows his place, Nate opens his mouth to receive Trenton's fat, hard cock as it slams all the way down his throat. With a ball gag in place, Trenton's new play thing is bound in full rope as he feels the flog whip against his flesh. Nate's eight inch cock dangles between his legs as Trenton flogs and stretches the boy's nuts before having a turn at his ass. After a thorough ass-flogging, Nate then feels the depth and stretch of Trenton's huge toys shoved in his ass. But nothing compares once Trenton slides his hard cock deep in the boy's ass, fucking him without mercy until Nate shoots his load all over the dungeon floor.