Latest updates featuring Justin Beal
17th February
- Lean and muscular stud Justin Beal joins us for the first time at KinkMen. We start this handsome hunk off bound to the cross while Sebastian works on
the bulging cock protruding from Justin's underwear. Throbbing at the slightest touch, and dripping pre-cum, our bound stud's cock is just aching to blow. Clamps pinch down on Justin's nipples but he doesn't mind the pain once we press vibrating hitachi's right on his cockhead at full blast. We then bend his ass over and shove a dildo inside before suspending him in the air, Sebastian swallowing Justin's cock as he swings back and forth through the air. Tied down on the bed, Justin's toes are too irresistible for us to pass up. We suck on every toe and lick up and down his arches while edging his rock hard cock. After fucking Justin's tight ass with a vibrator we finally allow him to cum before finishing him off with tickle torment.
...Read More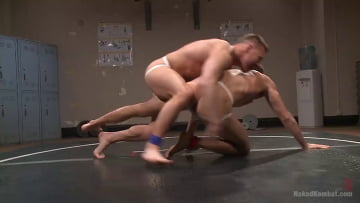 11th February
- Justin Beal is a lean and cut fighter with a cock that won't quit. Wrestling is a huge turn on for him and he's hard every round as he takes on Owen M
ichaels. Owen is a buff stud with years of wrestling experience and a competitive, cocky attitude. It's all muscle and hard cock when these two meet on the mat for an intense match of Top Cock. The loser gets treated like a punching bag and then made to drag weights around the gym by their balls. A hard locker room fuck leaves him covered in the cum of himself and the victor.
...Read More