Latest updates featuring Josh Peters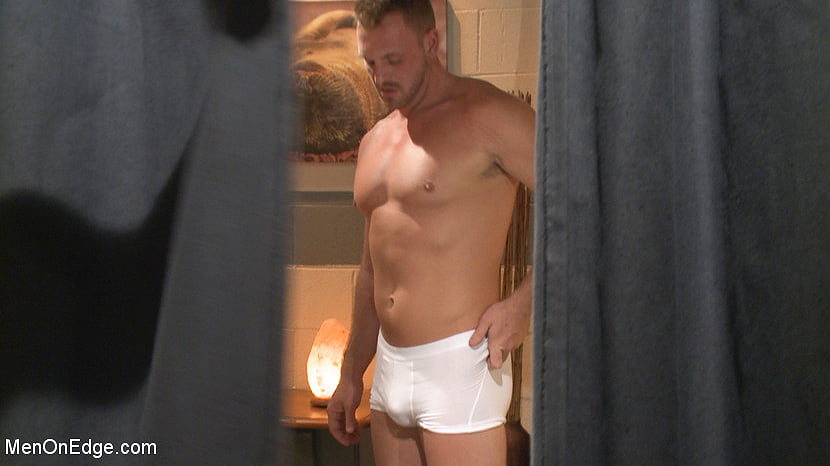 Officer Josh Peters can't stand perverts. When he receives a case on a sketchy massage parlor run by Sebastian Keys and Christian Wilde, Peters goes undercover to investigate. Sebastian and Christian creep on Officer Peters as he strips down to his underwear for his massage. They spot his badge and hatch a scheme to capture and edge the officer. As they rub and knead Peters' ass, they reveal the ruse and strap him to the table. Now at the perverts' mercy, Peters can only moan as Sebastian and Christian run their hands all over his cock and feet. They plow his straight ass with a vibrator, leaving the cop begging to cum. Now flipped over, gagged and with his nipples adorned with clamps, Sebastian offers a special cock massage and works the stud with a fleshjack. Just as Officer Peters is about to blow his load, Christian rips the clamps from Peters and joins Sebastian in tickling their captive all over. They bring Peters back to the intake and bind him in ropes and bamboo. No longer thinking of anything but shooting a wad of thick cum, Josh fucks two hitachis held by Sebastian and receives more painful edges. With the massage drawing to a close Sebastian finally decides to give the muscled hunk his happy ending and milks out a gallon of hot jizz. The relief is short lived for the officer, however, as Sebastian quickly rubs down his sensitive cockhead while Christian holds him down. The pervs taunt Officer Peters as they walk out, daring him to bring more of his cop buddies for another session next week.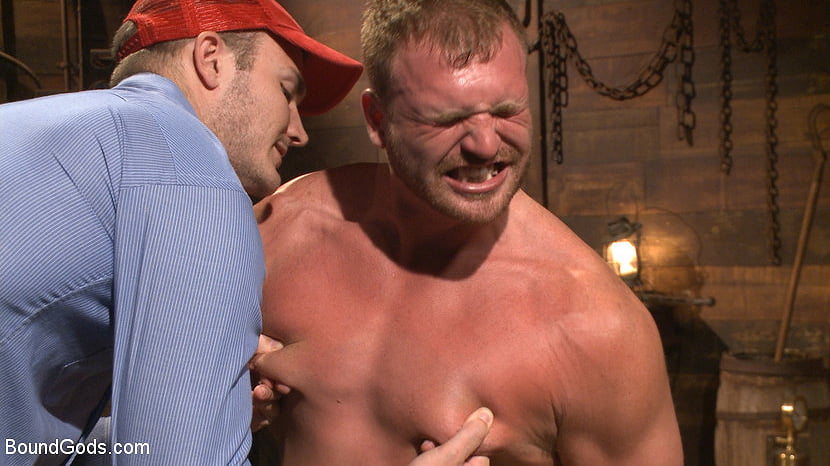 Josh Peters should have had the barn cleaned out, but the country pervert decides to rub one out instead. The boss, Christian Wilde, shows up in a rage and apprehends Josh. As he strips Josh down, Boss Wilde insults and humiliates him for wasting worktime with a cock in hand. Josh goes to his knees and takes a vicious spanking over a hay bale. Christian makes a deal for Josh: If he wants to keep his job, he's gotta serve Christian's cock. Josh obliges, struggling to fit all of Boss Wilde's dick down his throat before receiving sharp bites from the boss' belt. Boss Wilde still has a way to go before Josh learns the value of hard work, so he strings up Josh sideways and covers his balls in clothespins. He gives the stud a flogging he'll never forget before ramming his cock all the way into Josh's ass. Josh begs for the clothespins to come off, so Boss Wilde rips them from Josh's tender balls. The barn fills with Josh's screams as the flogging resumes. Boss Wilde gags Josh and throws him back over a hay bale for a deep fucking. He has the stud jerk himself while taking the stings from a mean crop. All is going to Boss Wilde's delight, so he pulls out of the stud and douses his face in hot cum. Now Josh finally has permission to blow a load and shoots a gigantic line down Boss Wilde's thigh. Josh licks his boss' leg clean before taking a tasing as a final reminder to stay focused at work.