Latest updates featuring Josh Long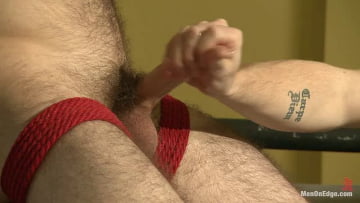 29th January
- Josh Long comes to Men on Edge with no experience with bondage, but he's excited to try something new. We start him off tied to the cross and blindfol
d him as his clothes are removed. Josh begins to like the feel of the ropes on his hot hairy body when we notice his cock is already hard, begging to be edged. Josh pushes himself to take the flogger and clamps on his nipples as his tied up throbbing cock is sucked and edged. Bent backwards in the air, Josh is made to cum all over his own hairy body and tickled till he calls for mercy.
...Read More
>> CLICK HERE TO DOWNLOAD <<
18th April
- Alex Christian has popped into a little countryside massage parlor for a rub down on his way home from the office. He's seen the small storefront for
years and always wondered about the place. Well after a long day of board meetings, he's finally checking it out. A young man by the name of Josh Long is providing service on this particular late afternoon. When Alex enters, he greets Josh with a 'hello,' but receives no salutation in return. Wearing nothing but a blue pair of tightly fitting underwear, Josh simply motions for Alex to remove his clothing and lay down on the massage table. Alex does and the rubbing begins. Josh kneads and manipulates slowly and carefully. Alex melts under his touch. Then Josh moves the focus of the rubbing a bit further south, squeezing Alex's butt cheeks. Alex is slightly alarmed at first, but can't believe how good it feels. Josh pulls Alex's shoulder back, suggesting he flip over. Alex does and Josh pulls down Alex's underpants. Alex can't believe what's happening. Josh takes Alex's cock in his hand first, then in his warm, salivating mouth. He sucks with tenderness and passion while Alex enjoys. Then Alex accepts Josh's hard dick in his own mouth. It's quite large, but fits perfectly between his lips. They move to a bed with fresh linens and Alex has a taste of Josh's sweet asshole. Then comes time for what makes this massage clinic famous: Deep Therapy. See Josh slide his throbbing boner into Alex's tight hole and pound it firmly. You'll know why customers keep cumming! Enjoy!
...Read More
8th April
- Josh Long is a hard working guy from the east coast who is taking it easy and taking it all off for you to see. With his open, care-free attitude on f
ull display, he slowly sheds his clothes, pulling at the hairs on his chest and standing his cock up in full salute. Running his fingers through his hair, he falls back onto the bed and looks over his shoulder, perking his ass up in the air and grabbing his cock between his legs, then rolling back over and spreading his legs as he strokes himself off to a gushing finale, his blue eyes sparkling in the light as he throws his head back in satisfied exasperation.Enjoy!
...Read More