Latest updates featuring Joey Rico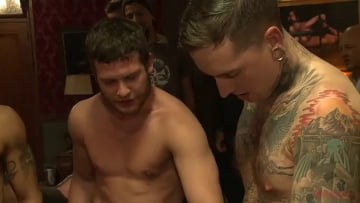 17th January
- Crawling on his hands and knees Brandon Moore brings in drinks for the crowd on a platter that's plugged in his ass. His ball gag and the platter are
removed as Hayden Richards drives Brandon's head into the crotches of horny party goers. The guys shove as many cocks in his mouth as they can fit before Hayden has Brandon tied down on the fuck box. With their cocks out the guys line up for Brandon to suck them off while Hayden plows him from behind. Back in the center of the room, Brandon's hands are tied above his head with a spider gag in his mouth as the guys suck and stroke his hard cock. Brandon has clover clamps on his nipples and ordered to bite down on the chain as Hayden and Sebastian give him a dual flogging. The guys untie Brandon's hands as he's pushed down face first onto a couch full of horny dudes as he services their cocks while getting fucked from behind. The guys then drag him onto a table, pinning him down and shoving their cocks in his mouth as Brandon's hole opens up for a fist. They fist Brandon's ass and milk a load out of his cock before giving him some painful post-orgasmic torment. Back by the fireplace the guys circle around the community slut and douse his face with all their cum.
...Read More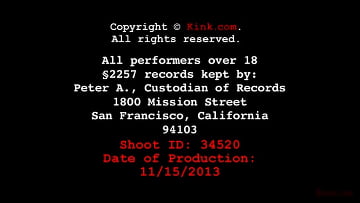 6th December
- On the castle upper floor, 50+ horny dudes arrive for our Thanksgiving gala and Brandon Moore is the guest of honor. Jessie Colter and Hayden Richards
carry the boy in with his eyes blindfolded and his hands bound behind his back, as he's passed around for the crowd's pleasure. Everyone at the party circles around and grope the stud's cock before he's put to his knees for some servicing. We write all over Brandon's chest, face and ass expressing exactly what he's thankful for. When we ask he screams: "I'm thankful for dick, sir!" The crowd laughs as he then shows how thankful he is by opening his hole up for for the crowd to fuck as he continues to service the crowd, sucking and stroking with everything he has. He works on the crowd's cock till he gets load after load of cum on his face. We drag the boy in front of the fireplace and give him a DP fucking as he's still made to swallow and stroke cock. After stuffing as many cocks into Brandon at once, the guy's bring him to his knees and have him begging for cum as they reward him with a bukkake.
...Read More