Latest updates featuring Jason Collins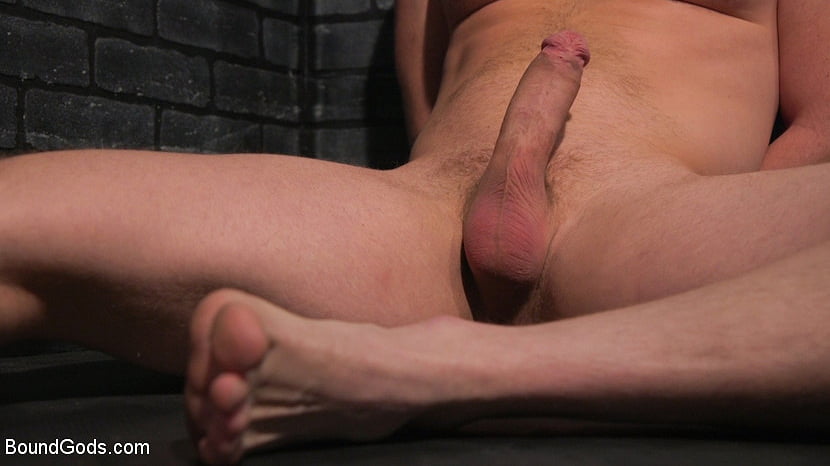 Brian Bonds sits on the floor of a dungeon, alone and completely naked with his back against a dirty brick wall. Around his neck is a collar that's been chained above him to the wall. Brian's dick stays hard with the thought that hopefully he'll get a visit today from his muscle-stud captor, Jason Collins. As luck would have it, Jason Collins cavalierly enters his dungeon shirtless, wearing leather pants and leather boots, holding a big leather paddle, muscles blazing. Brian gives him his best puppy-dog eyes and begs to serve him, telling Jason all of the ways in which he would do so. Jason tells Brian to get up on his knees and paddles his chest and legs until Brian's skin turns bright pink. He attaches a clamp to each of Brian's nipples and makes him lay on his back. Jason takes his boot and steps right on the middle of Brian's chest and pulls upward on the chain that connects the two clamps, making his scream in pain. After the nipple torment, Jason releases Brian from the wall and wraps him up in rope and suspends him from the ceiling with his ass exposed. Jason shaves around Brian's asshole with an electric shaver and gets it ready for his fat cock. He then tenderizes Brian's ass with his leather flogger. After a thorough ass beating with the flogger, Jason lets Brian down from the rope suspension and flips him over with his face down and his ass up. With his arms still tied with rope behind his back, Jason grabs the ropes around Brian's wrist like a cowboy mounting a bull. He shoves his huge cock deep inside Brian's asshole and fucks him deep, hard, and fast. Jason makes Brian suck his cock and Brian is so turned on to suck his master that he blows his own load all over Jason's boots just before Jason blows his in Brian's face.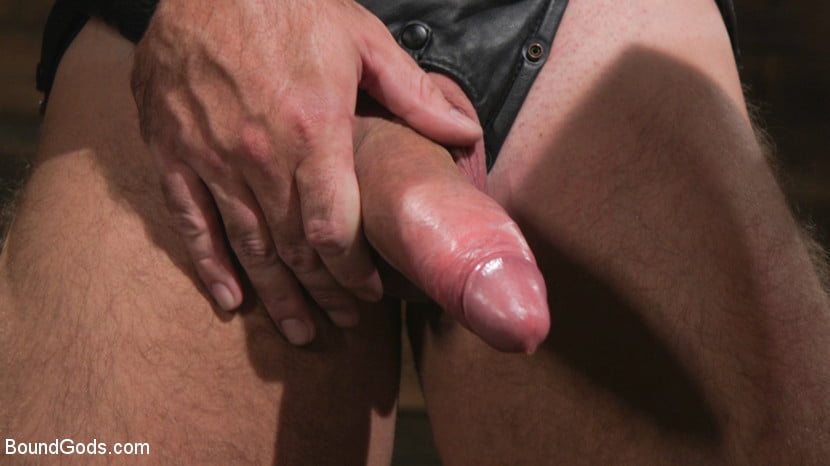 Casey Everett is home from school and stressed out from his midterms. Stepdad Jason Collins greets Casey, shirtless in his massage studio and gives his Stepson a hug. Jason had just finished up with a client and offers Casey a massage on the house to relieve the stress. Although reluctant at first, Casey takes him up on it. He strips down to his underwear and lays face-down on the massage table. Jason begins working out all the kinks and Casey relaxes so much he falls asleep. Suddenly he's tied to a bed with red rope wrapped around his wrists and ankles. His Stepdad lurks in the background wearing a leather harness, jerking his big hard cock. Jason walks up and slaps Casey's chest and asks if he wants Daddy's cock. Casey begs for it. Jason walks around to Casey's face and puts his cock just out of reach of Casey's mouth. Casey works hard to get any of his Daddy's cock in his mouth and begs for him to shove it in. Jason mounts his Stepson's head from the edge of the mattress and skull fucks Casey, sending his long fat cock down his throat over and over. Next we find young Casey face down ass up with a ball-gag in his mouth, bound in rope with his hands behind his back. Stepdad, Jason flogs his Stepson's ass and back as he screams through the ball-gag. In the final scene, Jason is lying on the bed with his hands behind his head, enjoying the view of Casey's ass bouncing up and down on his fat cock. Casey rides his Stepdaddy's cock, fucking himself deep and hard with it. Jason turns them both over to the side and he spoon fucks his Stepson hard until Casey blows his load with his Stepdad's cock still pounding his ass. Jason tells him to get off and he shoves an electrified butt-plug up Casey's ass and turns up the voltage. Casey's ass spasms in time with the electricity pulses and moans in pleasure. Jason gets so turned on, he tells Casey to suck his cock and blows his load right down Casey's throat.