Latest updates featuring Jake Steel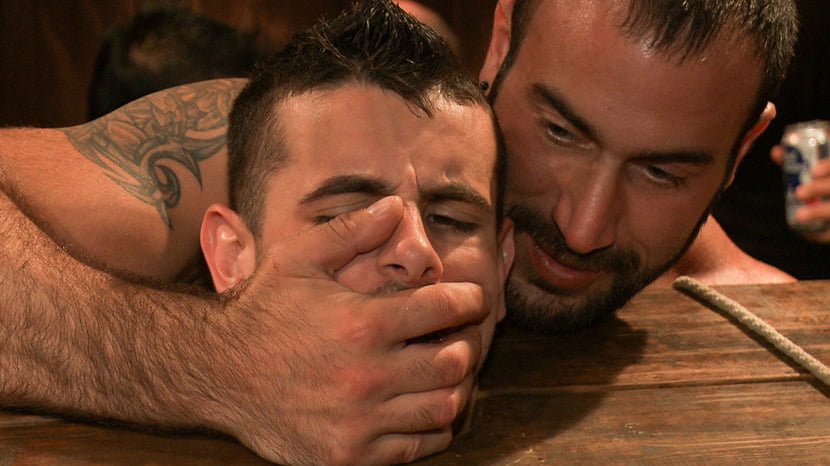 Jake Steel has been dragged to a bar full of horny guys and put in a headstock in the middle of the room. Spencer Reed handgags him as he's made to stroke cocks. One stud even gets raised up to the ceiling to make Jake suck his cock. Spencer makes him show his ass to the room than fucks Jake with a dick in his mouth. The crowd cheers as Jake takes a hard flogging. Naked guys form a chain of ass eating that stretches half way across the room then roll around in the oil groping and kissing each other. With Jake left in the center of the room he gets covered in cum by all the guys and washed off by the drinks of the bar.
Blindfolded and tied up Jake Steel is taken to a bar full of horny masked men to be their entertainment for the evening. Right away he's hand gagged and stripped down. He's thrown on top of a row of guys and gets two cocks shoved in his mouth. The bar is so crowded with sexy guys that a lot of them have made their way into the back room where Jake joins in on the sucking and fucking getting a couple loads from the guests on his face. Dragged back out to the bar they toss him onto a table put a foot in his mouth and cocks in his ass. They fuck the hell out of him until Jake is covered in cum.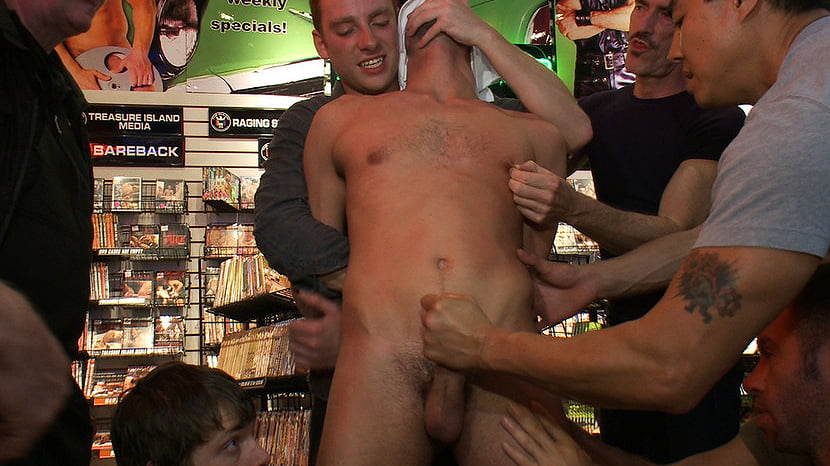 The local cruising arcade is under new management; the glory holes are boarded up and the price has been raised through the roof. When Jake Steel busts in the arcade and harasses the guys cruising for loitering they get fed up and take him down. In front of the other customers he's stripped down and beaten before they lock the door and fuck his ass in front of the window. Tied up, they move him back to his boarded up arcade, rip open the glory holes, and fuck him through one as a cock gets fed through the other. A gang fuck on the shop counter and all the cruiser's loads on his face teach this shop owner a lesson he won't soon forget.