Latest updates featuring Hunter Samson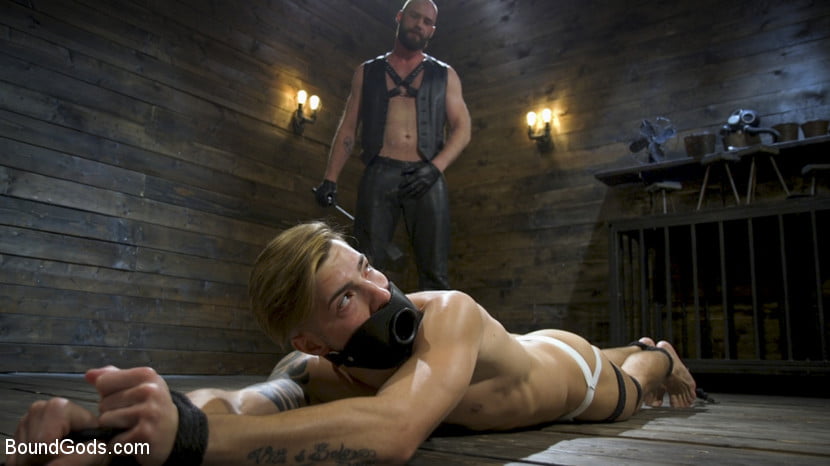 Smooth Stud Casey Everett has been a bad boy this year and needs to pay for his nasty habits before the new year. All tied up in rope bondage and restrained to the filthy floor, this handsome god is stripped naked down to their jockstrap with their ass up in the air ready for a new year's beating. Master Hunter Samson with his full beard and clad in his dungeon leather harness and vest is ready to beat this boy senseless for his amusement. He gets his toys hair hole ready with some rimming before his riding crop comes out to teach a lesson in pain. Casey's screams are muffled with a gag before Hunter Samson's big veiny cock comes out to stuff down Casey's throat. Later pretty boy jock Casey is blindfolded and restrained to the wall with his legs spread wide open. This clean cut stud's next lesson is shocking. The electric toys come and go right up his ass. This gets Casey Everett rock hard and ready for his cock to get deep throated. Finally a brutal fucking is delivered by Master Samson. His huge cock pounds Casey's hair eager hole. Tied up in rope suspension again, Casey struggles with pain and pleasure. The pounding causes this bound god to scream and both men shoot huge loads. Casey is ready for the New Year.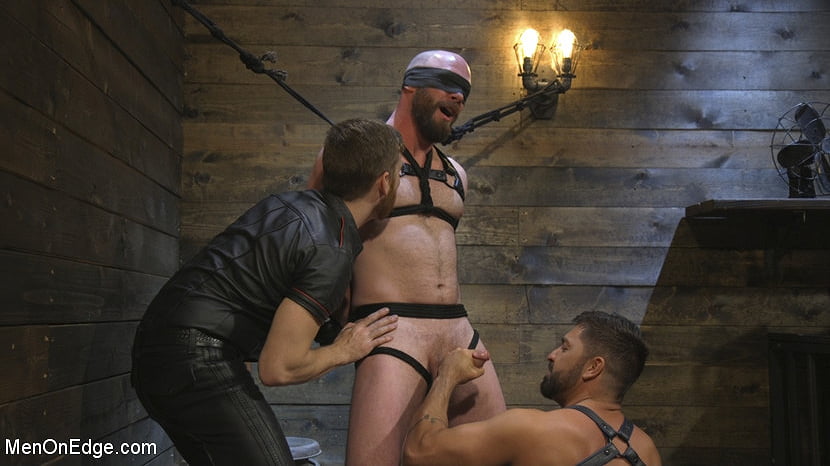 Tall and athletic muscle stud Hunter Samson visits KinkMen's dungeon for the first time. Right from the start his rock hard cock is throbbing with anticipation. As he methodically gets restrained with tight and severe rope bondage, his cock gets examined with black leather gloves. He purrs as he submits to the sadistic whims of two male dom's. Slowly the tip of his penis is licked until pre-cum begins to ooze from his cock hole. As two sets of lubbed hands massage this huge cock he begs to cum. He pleads with his handlers to allow him to blow his load but they only laugh and revel in the orgasm denial. The two dom's take turns sucking his balls and deep throating his cock. They keep edging him closer and closer to cumming and each time they laugh as Hunter trembles from the pain of being denied his orgasm. But the torment has only just begun. Next Hunter gets thrown on his back with his legs tied in a spread eagle. The edging takes up again and within seconds Hunters begs to cum. But the sadists have only just begun to torment their masochistic male slave. They jam a huge dildo into his tight asshole and stimulate his foreskin with a hitachi. As the dildo massages his sensitive prostate he mumbles garbled requests for mercy from the sides of a huge gag that is stuffed into his mouth. As his nipples are squeezed by severe clover clamps he edges closer and closer to cumming. And when he can't possibly contain himself any longer his male dom's allow him to blow a massive load of cum all over himself. As Hunter is fed a big handful of his own jizz, he revels in the joy of pleasing his sadistic dom's and serving their most depraved desires.