Latest updates featuring Devin Trez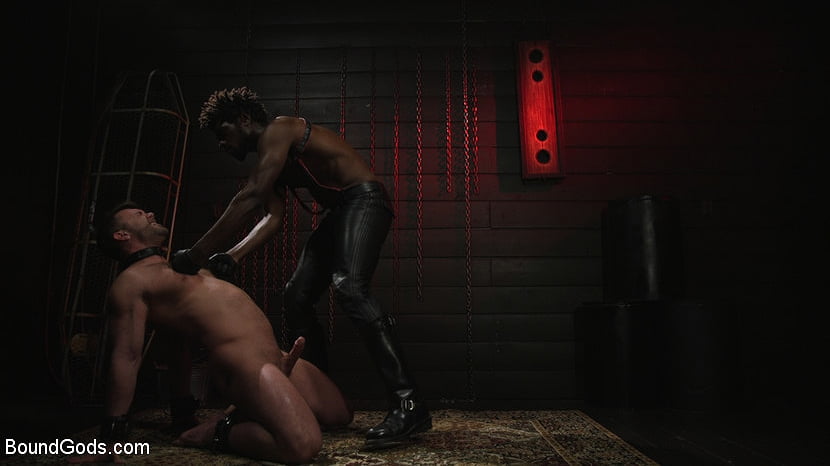 Hot and hunky Dom Devin Trez has a voracious appetite for Blaze Austin's ass. Leather clad Trez has Blaze on his knees in a dark dungeon donning a leather collar and cuffs and he is warming him up for some hardcore corporeal and ass pounding action. Devin licks and sucks Austin's mouth and makes him worship his leather gloves. Trez pinches Austins nipples, pounds his chest, slaps his hard dick and Blaze bends over backwards to let his master have his way. Then on all fours Blaze gets an intense spanking on his ass making him wince and moan and want come cock buried deep in his asshole. Now Blaze is all rigged up for suspension but before his ascension Devin teases and paddles his butt turning it redhot making Blaze squirm and howl. Devin spreads Austins ass open checking out the goods to see if his hole is ready for the big cock he is going to cram in that tight little hole. In his sexy leather pants Trez rubs his crotch all over Blaze's face and mouth-gag making him hot and desperate for the cock treasure that awaits inside those trousers. Trez finally reveals his big cock to his slut slave but won't let him taste it until later...Next with Blaze in full suspension Mr. Trez and his big hard dick have a fuck party inside Blaze Austins ass. Trez pounds his ass out while poor little Blaze takes it like a good slut bouncing back and forth in mid air. Finally Blaze is standing upright with arms tied to the ceiling and full body exposed and vulnerable to the torment that Devin will administer. Its time to go to Flogger town and what a trip it is when Blaze gets his ass and belly whipped over and over again until he is wailing in pain but he keeps taking it until Mr Trez turns that pain into pleasure when he fucks Blaze the slaves ass again. Devin chokes Austin's neck, fucks him and bites him giving him all kinds of wild sensations until finally Devin unties him and lets Blaze suck his dick. Mr. Trez shoots a fuck load gallon of hot cum all over Austins face and then lets Blaze jack off onto his boots and lick it all up. Good Slut.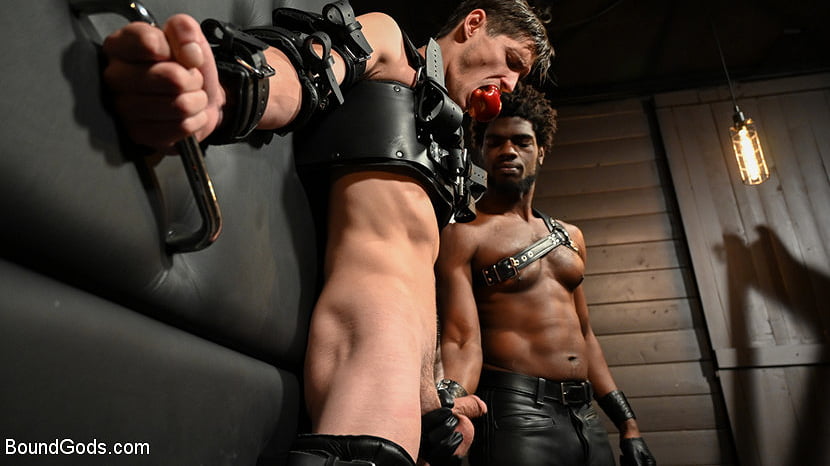 Kink Men newcomer Devin Trez is ready to train a new puppy in his dungeon. Clad in all leather, this black muscular handsome dom commands your attention. With each step of his leather boots on the cold wooden floor, his new toy Tony Orlando trembles while fully restrained to the wheel. Tony begs to suck his master's cock, but he doesn't know what he is getting himself into today. Devin Trez reveals he is hear to train a new dog since his last one ran away. Tony begs to not be made a dog, he just wants to suck cock, so the cane comes out first. Devin knows obedience starts with the sensitive areas and takes the cane right to Tony's hard cock. He beats Tony's body red with cane welts. Tony resists but is made to wear a leather puppy mask. This dog will break today. Devin spins the wheel that Tony is strapped to and lands him upside down ready to suck on his masters bone. Devin takes out his huge hard cock and shoves it down Tony's puppy masked throat. This gets Tony gagging and barking like a dog for more. Tony of course isnt complete with out an anal plug dog tail. With this rammed down his ass, Devin jerks off his toy for an inverted cum shot. Tony cums all over his masked face. This was only part one of Tony's obedience training. Next up Tony is bound in rope to a cross and the flogger comes out. Devin inflicts a brutal corporal punishment on Tony's backside. On all fours, Tony is cropped before strapped to a intense fucking machine. Unable to move, Tony's nipples are clamped and Devin pours hot red was all over Tony's chest. This gets Tony screaming and howling. Finally the master is ready to deliver a brutal fucking. Tony is bent over and Devin rams his hard cock into Tony's ass. This pounding delivers a huge cumshot from Devin all over Tony's whimpering face.