Latest updates featuring Brodie Ramirez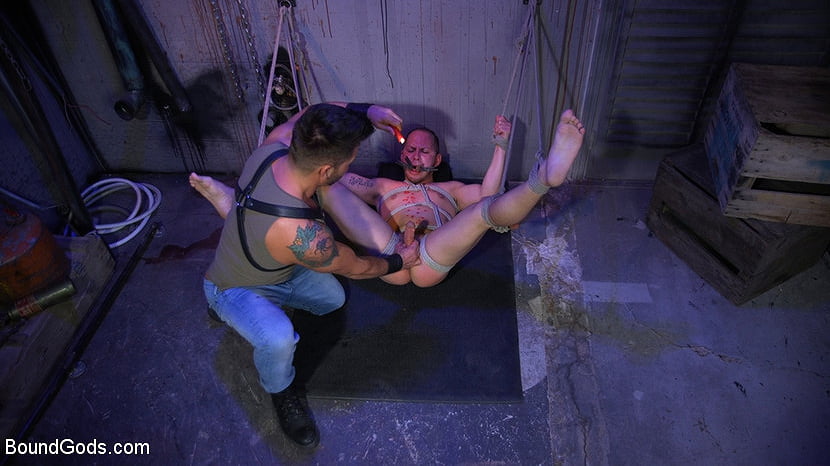 This week's Men on Edge left new boy Brodie Ramirez tied up in an alley after being edged and teased. As Brodie struggles to get loose, Dominic Pacifico is on the prowl. He took down Brodie and he's back for more. Brodie thinks Dominic is here to release him, but Dominic is just here to watch this slut take even more pain and pleasure. Tired of Brodie's pathetic pleas for freedom, Dominic puts close-pins all over his tongue. Then he lights a candle and drips wax all over Brodie's tongue, chest, cock, balls, and feet. Brodie screams in pain as his whole front is covered by wax. Then Dominic takes a shoe off and rubs his dirty foot all over Brodie's face. Brodie has no choice but to take it, licking Dominic's foot clean in hopes he'll be released. But that's not what Dominic has in store for Brodie. He ties Brodie down and puts a gimp mask on him. He makes Brodie smell his cock before ramming it down Brodie's throat. Taking every inch, Brodie sucks Dominic's cock, gagging on it with drool and spit leaking from his slutty mouth. Dominic flogs Brodie on his back and ass before bringing Brodie's mouth back down on his dick. Finally, Dominic puts a gag in Brodie's loud mouth and fucks this slut's tight asshole. Brodie loves feeling Dominic's fat cock filling him up and enthusiastically works Dominic's cock as he moans around the gag. Dominic knew this horny bitch wanted it and works Brodie's cock till he blows his load all over himself. Brodie begs to be released as Dominic brings him down to his knees and shuts him up with his cock. He uses Brodie's mouth and then gives this slut a big load of cum all over his face. He makes Brodie suck is cock clean, before hauling him off to whore him out to anyone who wants him.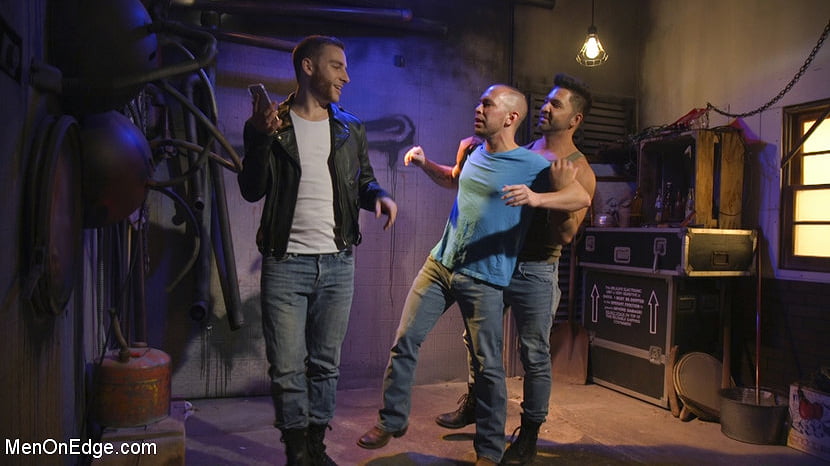 Brodie Ramirez is walking around, lost in an unfamiliar sketchy neighborhood, looking for a party. One wrong turn sends him walking down a dead-end alley where Sebastian Keys and Dominic Pacifico are already waiting, eager to tie up an unsuspecting guy right there on the dirty street and edge his cock. As Sebastian and Dominic approach Brodie in the alley, Brodie gets a bad feeling and tries to run away, but he's caught by Dominic who holds Brodie while Sebastian quickly ties him up with rope. Dominic holds his hand over Brodie's mouth to muffle the screams while Sebastian cuts Brodie's shirt off and pulls his pants down showing his already hard cock through his underwear. Sebastian cuts the underwear off and Dominic squats down and starts sucking Brodie's hard cock. Sebastian wraps some rope around Brodie's cock and balls and ties the other end of the rope to the wall making Brodie's cock even harder. Sebastian starts jerking Brodie off using a flesh-light getting him so close to cumming but Sebastian and Dominic wont let him. In the next scene, Brodie is tied up again with rope but this time on his back with legs spread apart, blindfolded and gagged, still wearing the cowboy boots. They slap his ass and play with his cock. They take Brodie's boots and socks off and simultaneously lick and suck his toes while they jerk his cock and finger his asshole. After that they tickle him making him giggle and squirm. They apply clothespins to Brodie's nipples. Sebastian pulls on Brodie's balls while Dominic jerks his cock letting Brodie cum this time and Brodie shoots his load all over his own stomach. Dominic scoops it all up and feeds it to him and they both just leave him there tied up, naked.