Latest updates featuring Ace Era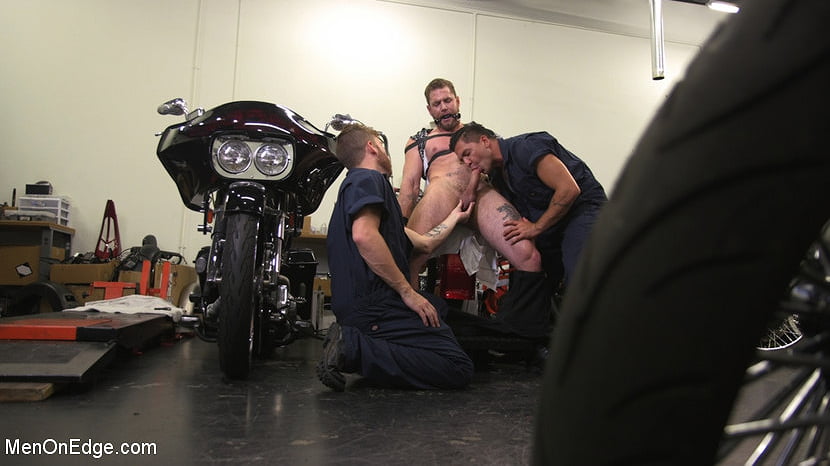 A man and his hog. The two should never be separated. Ace Era has a special motorcycle that has been in his family for ages. It belonged to his Daddy who loved the feel of leather between his legs and the vibration of the engine in his cock. Like father, like son and needless to say this motorcycle is Ace's pride and joy. Like all good submissive boy sluts, he brings it to the best mechanics in town to be pampered and serviced. Money's no object when it comes to his baby and when Sebastian and Dominic bring him a huge bill for services rendered he doesn't hesitate to whip out his well used credit card to cover the costs. While Dominic runs the credit card, he brags to Sebastian about his bike and how he loves a big stiff ride. We will never know if the card was really declined or if guys were just fucking with him so they can abuse his hot muscled body, but one way or another Ace Era had to pay the ultimate price to get his hog out of hock. The boys quickly overrun Ace and restrain him in tight and restrictive rope bondage. Ace finds himself helpless and vulnerable to the cruel and sadistic intentions of these two wicked dom's. They shove a huge ball gag into his mouth to silence Ace's pleas for mercy and then quickly cut off all his clothes revealing his massive and stiff cock. Ace's mouth is saying "no" but his huge rod is screaming "yes!!" This little butt slut loves to be abused and edged towards unwilling orgasms. The sadists toy with him and pinch the head of his cock closed so he can't cum. They torment him with a vibartor that stimulates the tip of his penis and sends him into frenzied spasms. His whole body quivers as he begs to cum, but his cruel task masters haven't even begun to extract their payment from this boy toy. They throw him to the ground and tie his legs wide open to expose his tight asshole. They reach inside him and stimulate his prostate and watch the tiniest amount pre-cum ooze from his cock hole. Ace is blindfolded and has no idea what Dominic and Sebastian are doing to him. He fights and struggles but the rope bondage is inescapable. He is fucked and he knows it. The two dom's take out a massive dildo and cram it into his asshole and he moans in unwilling ecstasy. They stroke his cock and edge him ever so close to cumming and then laugh at him as he shakes from the the denial. He can't take it anymore and finally Sebastian allows him to blow a huge load of cum all over himself. Having grown tired of their male sexual slave the two sadist walk away and leave Ace struggling in vain to escape from the bondage. They will fuck him again tomorrow until he has paid off his debt.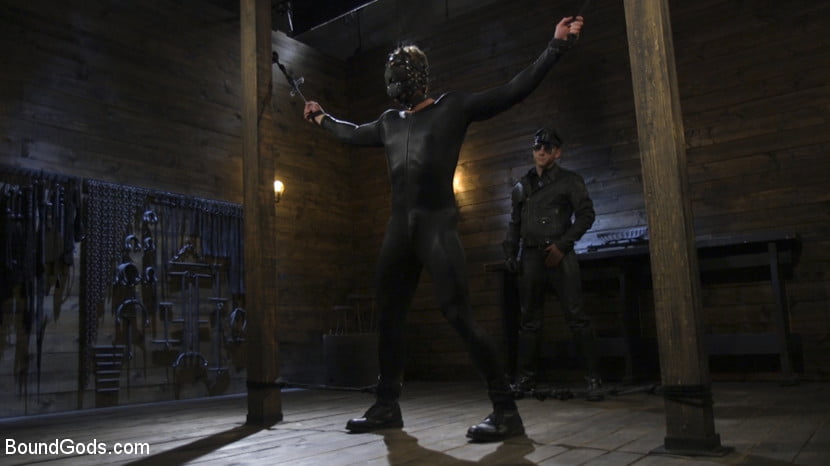 Submissive muscle stud Ace Era stands between two vertical wooden pillars wearing a tight black bodysuit, black boots, and a leather mask that has him blindfolded, gagged, and breathing like Darth Vader. Each ankle and wrist is bound with rope keeping his legs spread and arms stretched out looking like a comic book hero trapped in an impossible predicament. In struts Sebastian Keys wearing all black leather from head to toe. He runs his gloved hands over Ace's protruding muscles and squeezes his ripped shoulders and biceps. Sebastian unzips the fly on Ace's bodysuit and reaches in. He pulls out his big cock already rock hard. Next Sebastian unzips the top of Ace's bodysuit and slaps his bare chest and abs. Sebastian grabs the flogger and goes full swing on Ace's cock. Ace yells muffled screams through the ball-gag as the flogging continues on his dick, chest, abs, and back. Blindfolded and gagged, Ace can't tell when or where he's going to be hit next, or with what as Sebastian discretely switches to the cat-o'-nine-tails, and slices it across Ace's back and ass without warning. In the next scene, Ace is lying face-down hogtied on a dirty mattress. Sebastian canes his ass and legs then shoves his cock in Ace's mouth. Next Ace is bound on his back spread-eagle on the same dirty mattress wearing only a rubber bit in his mouth to bite down on. He'll need it as the electricity surges into his asshole from the electric butt-plug Sebastian shoved up there. Ace wiggles and screams to the pulsing ass electrocution making Sebastian's dick even harder. Sebastian pulls the toy out and fucks his slutty asshole deep. Sebastian shoots a monster load into Ace's mouth and Ace cums all over Sebastian's leather boot, immediately lapping it up clean like a dog.