Latest Updates from Kink Men (Page 6)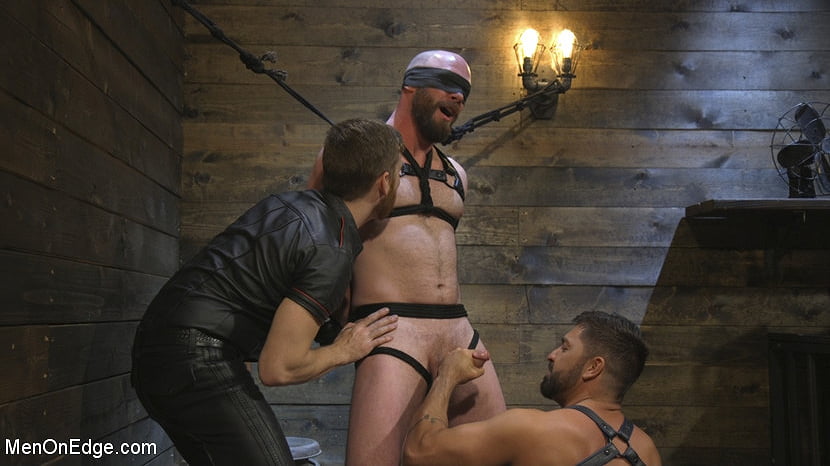 Tall and athletic muscle stud Hunter Samson visits KinkMen's dungeon for the first time. Right from the start his rock hard cock is throbbing with anticipation. As he methodically gets restrained with tight and severe rope bondage, his cock gets examined with black leather gloves. He purrs as he submits to the sadistic whims of two male dom's. Slowly the tip of his penis is licked until pre-cum begins to ooze from his cock hole. As two sets of lubbed hands massage this huge cock he begs to cum. He pleads with his handlers to allow him to blow his load but they only laugh and revel in the orgasm denial. The two dom's take turns sucking his balls and deep throating his cock. They keep edging him closer and closer to cumming and each time they laugh as Hunter trembles from the pain of being denied his orgasm. But the torment has only just begun. Next Hunter gets thrown on his back with his legs tied in a spread eagle. The edging takes up again and within seconds Hunters begs to cum. But the sadists have only just begun to torment their masochistic male slave. They jam a huge dildo into his tight asshole and stimulate his foreskin with a hitachi. As the dildo massages his sensitive prostate he mumbles garbled requests for mercy from the sides of a huge gag that is stuffed into his mouth. As his nipples are squeezed by severe clover clamps he edges closer and closer to cumming. And when he can't possibly contain himself any longer his male dom's allow him to blow a massive load of cum all over himself. As Hunter is fed a big handful of his own jizz, he revels in the joy of pleasing his sadistic dom's and serving their most depraved desires.
Welcome Addison Blue to a special holiday Bound Gods update! Addison decides to go to bed early but Santa Daddy Jaxton Wheeler has other plans. Jaxton creeps up on a sleeping Addison and decides he's the perfect present - for himself! Jaxton pulls Addison from bed for some holiday fun. Addison is bound in leather straps and admits to Santa that he has been a naughty boy. Jaxton spanks Addison's ass red and slaps it with a leather strap. Ass stinging, Addison cries out in pain and promises he'll be a dirty ass whore for Santa. Santa can't wait, he licks Addison's ass in anticipation for what's to cum. Next Addison is bound in rope and garland. He is blindfolded and every sensation is amplified. Jaxton rams his cock down Addison's throat and gives him a good throat fucking. Addison gags on dick as he struggles to take all of Santa's big cock. Santa puts clover clamps on Addison's sensitive nipples and tugs them as he uses Addison's warm wet mouth. Finally it's time for Santa to fill his flesh stocking. He stuffs candy cane after candy cane in Addison's sweet ass, delighting in Addison's moans and squirms. Hog-tied with rope, there is no escape from this big beefy Santa and his devious desires. Santa licks those candy canes and spreads Addison's ass cheeks to admire his handy work. Then Santa removes the candy canes from his boy's ass and replaces them with his rock hard cock. Addison moans as Jaxton rides him hard, pounding that warm hole. Jaxton pulls out and blows his load in Jaxton's mouth. Then he jacks Addison off on a Christmas cookie and feeds it to him, icing and all.
Mike Maverick is taking his time spit-polishing his boots while the rest of his formation is on duty. This doesn't sit well with Drill Sergeant Hardass Dirk Caber. Dirk confronts Mike and belittles his boot polishing skills. Unsatisfied with his soldier's work, Dirk makes Mike get down on his hands and knees and lick his boots clean. Despite Dirk's instructions, Mike istill fails to get his boots properly cleaned and now he's in double trouble. Dirk strips Mike of his uniform, and slaps him all over his chest and back. He breaks out the crop to see what Mike is really made of. Mike yells as Dirk's hands and implements hit his body. He struggles to stay in position as Dirk humiliates him. But the harder Dirk hits him, the harder his cock gets. And Dirk knows exactly how to treat this hard cock - he beats it and then pushes Mike's head down on his own erection. Next, Mike is gagged and bound, with his unpolished boot tied to his cock. Dirk loves seeing his soldier helpless. He spits on Mike's cock and rubs his beard all over it. He teases the head before sliding it deep in his throat. He smacks and flogs Mike all over his torso and cock. Once Mike's skin is nice and red, Dirk puts clamps on his nipples and begins flogging and teasing his cock all over again. Mike squirms in bondage but is unable to escape Dirk's skilled mouth and precise smacks. Finally, Dirk has Mike tied with his legs open and spread. Dirk slides his fat cock into Mike's asshole and pounds the shit out of him. Mike loves every second and blows a huge load all over his belly and chest. Then Dirk pulls out and cums on Mike's face. Mike cleans off Dirk's dick. Punishment complete.