Latest Updates from Kink Men (Page 11)


Hot MILF Simone and her little blond step-brat for the week end Chloe Couture are at each other's throats. Ramon recognizes the need for some good old fashioned discipline, reminding Simone that she has a brat streak a mile wide and also deserves to be grounded. Making the mistake of using teeth during a blowjob lands Simone face down not the floor, ass red from a serious paddling, apple shoved in her slutty mouth, face covered in squirt, fucked on the breakfast table until she is begging to cum. Licking her squirt off of his shoe Simone finally looks like the content submissive whore that she can be.Chloe meanwhile uses her little pink pussy to try to get her way out of being grounded, but Ramon clips that little slit shut and fucks her mouth instead. Properly spanked and screaming for mercy, Chloe has her pussy released just enough so that she can have her deep red ass bouncing on Ramon's cock. Simone is hardly impressed when she find's her step-daughter trying her best to please a real man's dick and shows her little brat how to really work a cock. Tied up tight like a little slut, Simone get's her round ass fucked while her step-daughter vibes her pussy and beg's to be taught the house rules, cleaning Simone's ass off Ramon's cock for every wrong answer. Tired of sloppy mistakes Ramon brings out the cattle prod electro torments his little blond angels until he is pleased with answers and fucks Chloe's tight little ass tied in bondage while Simone teaches her how to take it.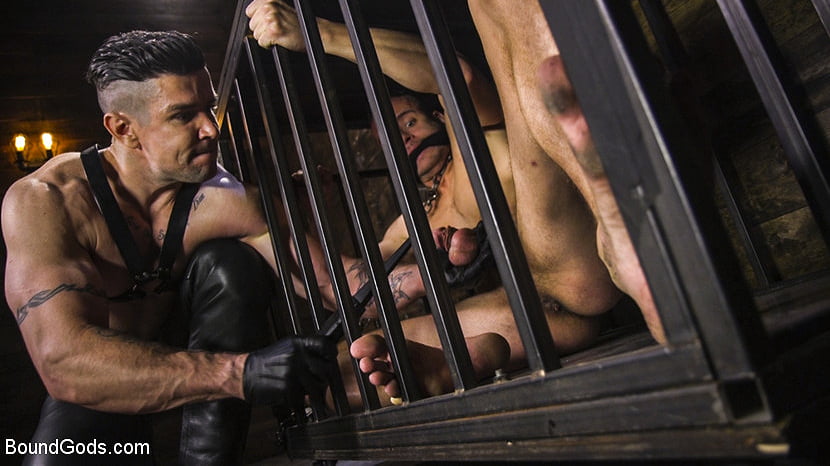 Locked in a cage, Nate awakens to find himself with a chain around his neck as his tormentor, Trenton Ducati, approaches. The sadistic leather dom grabs his boy by the chain and smashes his face against the bars, relentlessly zapping him with electricity as Nate screams in agony. Now that he knows his place, Nate opens his mouth to receive Trenton's fat, hard cock as it slams all the way down his throat. With a ball gag in place, Trenton's new play thing is bound in full rope as he feels the flog whip against his flesh. Nate's eight inch cock dangles between his legs as Trenton flogs and stretches the boy's nuts before having a turn at his ass. After a thorough ass-flogging, Nate then feels the depth and stretch of Trenton's huge toys shoved in his ass. But nothing compares once Trenton slides his hard cock deep in the boy's ass, fucking him without mercy until Nate shoots his load all over the dungeon floor.
Bound to the chair, Dylan Strokes bulges out of his underwear as Jackson Fillmore teases his nine inch cock. Moaning in ecstasy, Dylan begs for Jackson to wrap his lips around his exposed, hard member until a ball gag tightly placed in his mouth, muffles his pleas. A fleshjack slides up and down, edging the bound hunk's fat cock right to the point of bursting. Dylan is then blindfolded and suspended in the air, all while Jackson strokes and sucks him off. With his ass nice and open, Sebastian shoves a vibrating dildo in Dylan's tight hole, pounding away on his prostate while Jackson provides the dual service of sucking Dylan's bulging cock right until he's about to cum. On his knees, the bound stud begs for release as Jackson swallows his cock right to the hilt. Finally Jackson gives Dylan the sweet release he's been begging for and drains all the cum from his aching balls.