Latest 'clover clamps' updates from Kink Men


Like a greek statue chiseled from marble, Alex Mecum stands tall, his muscles glistening with sweat as he awaits the 30 Minute Challenge before him. Against the wall, his hands are bound above his head, exposing his beefy chest and torso for complete torment. Alex's raging hard cock throbs between his legs as Sebastian's hands rain down against his body. But Alex just begs for more, but he quickly learns that he should be careful what he wishes for...The flogger whips against his thick piece of meat sending Alex's screams over the moon as he's mercilessly beaten front to back. Strapped to the chair, a ball gag muffles the muscled hunk's moans. Tight clover clamps torment his nipples and balls, the pain so excruciating even the ball gag can't contain his screams. But that's nothing compared to the sensation of having them ripped from his flesh. Now that we've taken care of his balls, we then turn our attention to his aching cock. A variety of sounds slide deep inside his cock, fucking his insides as each sound gets bigger and bigger. Once his cock has been fucked, we let loose the depraved gimp, ravaging his hole as the riding crop torments his nipples once more. Upon his completion, Alex is then freed from his bondage where he strokes his sensitive cock and oozes his load all over himself as reward.
Seamus O'Reilly still hasn't had his car fixed after being abused by the pervy mechanic D Arclyte, so he tries the only other shop in town. Muscled hunk Lance Hart is working away in the shop when the disgruntled ginger storms in. Lance tries to explain that he only works on bikes, but Seamus isn't having it. All hell breaks loose for poor Seamus when he's taken from behind and dragged back into the shop for some abuse. Turns out mechanics in this town talk, and Lance heard all about Seamus' previous encounter and decides it's time to have a little fun of his own. He straps the boy between two bikes, paddling his pale flesh to a bright red before attaching clover clamps from his balls to his nips. Seamus screams at the top of his lungs but it's nothing compared to the flogging that follows. Lance strokes his hard cock as he beats his fucktoy down to submission all while a painful zipper clamps down his sides. Bent over a stack of tires, Seamus takes cock from both ends as the horny biker torments him with the zapper. Lance finally pulls out his raging cock and blasts a hot, thick load all over his boy's face before dragging him off into the night for all his biker buddies to enjoy!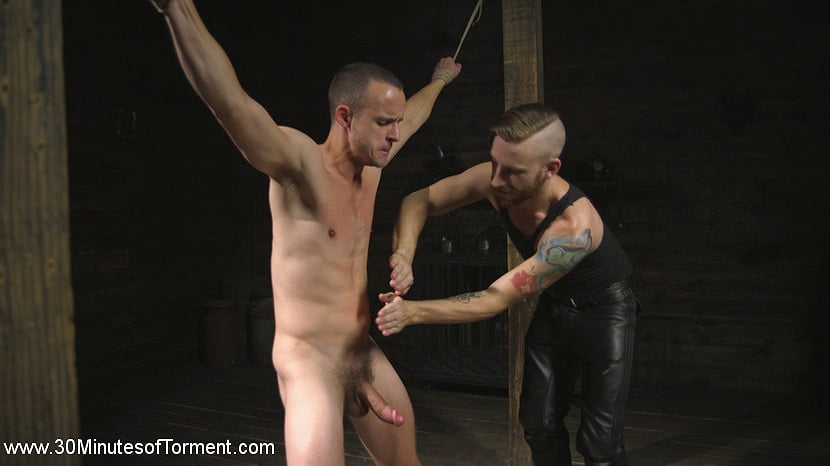 Nate Grimes is a real player in his personal life, and has been a fan of the KinkMen sites for some time now, but he's never experienced anything like the 30 Minute Challenge. He starts off in the pit, his hard cock dangling between his legs as Sebastian starts warming him up. Nate begs for more once the punches come out so we give him the flogger to really get him screaming. Strapped to the chair, his sight is removed and clover clamps decorate his torso as Nate breathes through the pain. His senses are driven wild once the sharp pinwheel glides across his body, tormenting his clamped skin until he begs for mercy. For his last challenge, Nate is made to ride our gimp's hard cock, all while enduring a caning on his thighs and ass. As if his nipples weren't sore enough, we finish him off with a zipper of clothespins across the chest before having him shoot his load all over the dungeon floor.