Latest Updates from 'Bound In Public' at Kink Men (Page 5)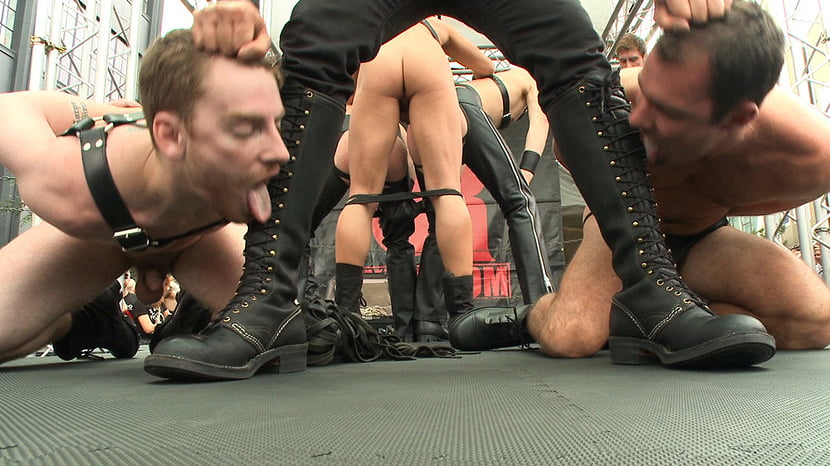 The BIP crew is front and center on the Kink stage at San Francisco's 30th Annual Folsom Street Fair. In front of thousands of people, the guys hold Sebastian down as Master Avery warms his backside up with the flogger. Van takes over from there, beating Sebastian down anyway he can as the crowd cheers: "HIT HIM HARDER!" The main attraction, Cameron Kincade crawls onto the stage for his first Folsom Street fair, gazing upon the colossal size of the crowd. His head is shoved into Sebastian's ass as he endures the flogger, screaming sounds of pleasure rather than pain, or else he's beaten even harder. The guys get so horned up on stage that they drag Cameron to a nearby sex shop and quickly whore him out. They drag him around sucking cock before taking turns ramming their cocks up his ass. Jessie Colter breaks out the double ended dildo and starts dual fucking Cameron as the crowd chants ASS TO ASS! They finish Cameron off by hosing his face down with cum before taking him out back for some more Folsom fun!
Christian Wilde and Jessie Colter decide to drag their bound whore Connor Patricks to Club Eros, a bathhouse here in San Francisco, with his eyes blindfolded. The horny crowd takes his clothes off and starts playing with the bound stud's cock. The bathhouse slut has no trouble getting his cock hard, feeling the hands rub up on his body. Connor is thrown onto the couch, sucking cock as the horny crowd plays with his ass. Christian ties the boy up and beats him with the flogger. Once some clover clamps are attached to Connor's nipples, Jessie torments him with the zapper all over his body. Connor crawls into the locker room where everyone has their hard cocks lined up and waiting. He's passed around like a whore before the guys take turns fucking him. Connor works all the cock he can find and even takes a load of cum to the face. The horny crowd awaits in the sauna as Connor crawls in servicing their cocks. Connor's made to eat ass as he's plowed from behind before the guys give the slut a bukkake. Still horny, the guys drag Connor upstairs to the play space for some more cum-filled fun.
A bar full of horny patrons gather round to have their fun with the go-go boy Isaac Hardy, locked in the stockade. They take turns playing with his cock till it's rock hard. They bring him to his knees to put his mouth to good use. Isaac sucks off the crowd till he gets a load of cum all over his face. After a flogging, Isaac is pushed to the ground as the guys fuck him from both ends. A few guys shove their feet in Isaac's face as he's made to worship every toe. Bound on the bar Isaac has his hairy cock edged with clover clamps on his nipples. After they torment his sore nipples, Connor Maguire flips Isaac over on his knees and fucks him on top of the bar. The slutty go-go boy is tied down on a couple tables while the guys milk a load out of his cock and feed him his own cum. The crowd takes turns blowing their loads all over his face as he's left bound, dripping in cum.