Latest Updates from Kink Men (Page 60)


Adam Herst is new to the house and sub #316, Sebastian Keys is there to greet him . Adam is not impressed with the offering but decides to see what the boy is made of. After all, there must be some reason why he was given this slave. He has the boy work his leather. He inspects his ass and whacks it with his crop until it turns completely red. He's worth more testing so Adam covers him with brutal butterfly clamps, gets his cock hard, and flogs him. He rips the clips off, suspends him and flogs him until he screams for mercy. Suspended once again, #316 gets a massive cock ramed into his ass in mid air. He earns the new master's compliment by being able to lick his own load off of Adam's boot.
Marc Dylan's physique defies convention. With his rolling biceps, cut abs, and huge cock it's almost enough to make you forget about his bright smile and boy-next-door charm. We tie him to the sawhorse, blindfold him, and cut his clothes off. His cock gets hard and he flexes his muscles as he's edged. In the next room we tie his arms back and bring him to the brink of cumming once again. With his cock still throbbing, Marc is suspended for the first time and endures the flogger over his entire body. Hogtied, we cane his ass and feet, pushing him farther than he thought he could go. The stud is spread out on a table in bondage. His muscles roll and flex around his body as he squirms from the intense cock stroking. Finally after a long session of extreme edging, he blows his hot load all over his muscle.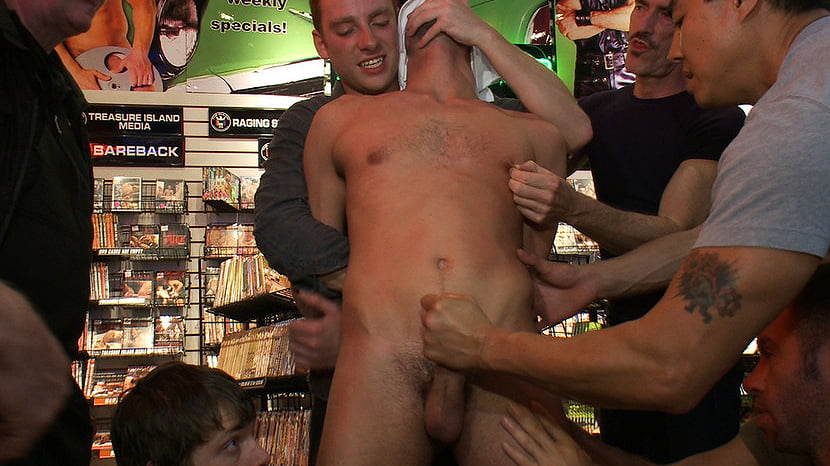 The local cruising arcade is under new management; the glory holes are boarded up and the price has been raised through the roof. When Jake Steel busts in the arcade and harasses the guys cruising for loitering they get fed up and take him down. In front of the other customers he's stripped down and beaten before they lock the door and fuck his ass in front of the window. Tied up, they move him back to his boarded up arcade, rip open the glory holes, and fuck him through one as a cock gets fed through the other. A gang fuck on the shop counter and all the cruiser's loads on his face teach this shop owner a lesson he won't soon forget.